Avid Media Composer 7.0 is the new editing application from Avid Technology which specialises in audio and video production technology; specifically, digital non-linear editing (NLE) systems, distribution and management services. As we all know Media Composer is the most extensively used in digital non-linear editing for video editing and as well as for editing in professional films. With Avid Media Composer 7.0 the users gain automated media management, accelerated high-res-to-HD workflows, extending real-time production everywhere and interplay sphere for Mac support.
The Media Composer 7.0 is available all across the globe in two versions which are Media Composer 7 and Media Composer 7 Interplay Edition. These editing application supports for Interplay Sphere, Interplay and Interplay Central. A Symphony option for Media Composer is also available, adding advanced color correction tools, mastering tools, and Boris Continuum Complete.
The various features available in Avid Media Composer 7.0 which makes it a high class product are:-
By using new FrameFlex tools you can acquire high-res media and deliver in HD, with full creative control of reframing.
The new Dynamic Media Folders automate media management tasks, such as transcoding, in the background perfectly.
It supports for Interplay, Interplay Sphere, and Interplay Central which helps in extending real-time production anywhere.
With the new Master Audio Fader feature you can insert RTAS plug-ins to tweak tones and optimize overall program loudness flawlessly.
With new Clip Gain control you can make audio adjustments to any clip directly in the timeline.
You can deliver finished sequences to a standardized AS-11 (AMWA) MXF OP1a file anytime.
It also enables getting 9-way real-time multicam support for Long GOP (XDCAM) media very easily.
It also supports selecting multiple clips in the timeline without the filler.
It also supports for iXML to view location sound metadata from Broadcast Wave files.
By using the updated QuickTime AMA plug-in it enables to work with Alpha channel media
The new AMA enhancements make edit much easier
With the Symphony option you can add advanced color, effects, and mastering tools.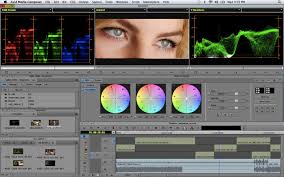 By introducing Media Composer 7.0, Avid has taken an evolutionary step in editing with bigger-than-HD sizes. It has increased number of user enhancements like master fader on the mixer, spanned markers (markers that have duration values) and mini-faders that pop-up to adjust clip levels directly on the timeline to help you in editing more easily. Avid Media Composer 7.0 a top class product as it also includes "starter pack" of filters from NewBlueFX, as well as the titler in addition with the Title Tool and Marquee. Avid is highly compatible with third-party I/O cards from Blackmagic Design, AJA, Bluefish, Matrox, and MOTU. This particular product Media Composer is designed for those film editors and broadcasters who need a great offline editor for feature films or workhorse editing application. Talking about the high-pressure and collaborative environments no other NLE application has proven as Media Composer 7.0. It works perfectly on Windows 8 computers and laptops. It also supports Mac operating system which enables it's user to choose it for all the operating systems. So, if you need an NLE application then all the users can count on Avid Media Composer 7 and it perfectly fits your bill. With Media composer the users can experience the fastest file-based media workflows, and ACE-certified tools from a trusted company.

Highly Recommended By Software Pro Reviews