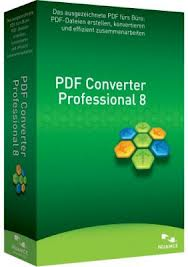 Conversion of PDF files into fully formatted documents, forms and spreadsheets with text, graphics and tables of the popular Office suites can be done precisely with the use of Nuance PDF Converter. It is software that lets business users improve the way they create, convert and securely share PDF files. It is definitely smart software which is simple to use. It dramatically improves business productivity by featuring word processor-like editing, real-time interactive collaboration with multiple people, PDF security, and Cloud connectivity and compressed PDFs. It can smoothly create 100% industry standard PDF files and it can also edit and print documents with total security. It is software which performs best to convert paper and PDF into Microsoft Office documents. You can open or save your PDF to popular cloud services. Nuance ScanSoft PDF Converter Professional 8.1 is the smarter way for savvy professionals and knowledge workers to:
Convert paper and PDF into Microsoft Office documents
Effortlessly create 100% industry-standard PDF files
Search and highlight information in PDFs
Control, view, edit, and print documents with complete security
Open or save your PDF to popular cloud services
Securely and efficiently collaborate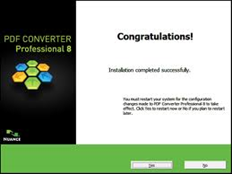 A new advanced edit tab that converts and displays your document as a fully editable document is offered only by PDF Converter. The fluid editing becomes more faster and there is no need to move to a word processor. The files can be opened from popular cloud services such as PaperPort, Dropbox and Evernote anywhere through the use of new connectors. Modified results can be returned to these sites. Using text or voice chat in real-time with multiple people, share, edit and discuss document can be changed. From single forms to additional files types such as XML, TXT and XFDF, data can be exported. Users can also export data from multiple forms with the same data field sets to XML and CSV files that can be opened by Microsoft Excel or similar spreadsheet programs. With the new Reduce File Size feature, it is easier to reduce the file size of existing PDF documents. The size of multiple files can be reduced at once in a batch mode and it is the other important option available. By speaking them instead of using the keyboard, you can create accurately and quickly in PDF files. Using any standard microphone and the included Dragon Notes tool, it is much faster than typing and easier too. Without having to open them, you can get an instant visual preview of PDF email attachments. As compared to the zipping files, it is more versatile. Without changing the original file type, you can combine files of multiple types into a PDF. Microsoft Office users can view and edit documents directly within a PDF Portfolio. The file opens in PDF Converter Professional without having to save it locally and there is the advantage of the ability to print to the PDF printer. By giving access to certain folders by authorized people only using PDF Converter Professional 8, you can create a more controlled business process. Using a pre-defined Microsoft Outlook address, you can direct PDF files via e-mail to a fax machine.

Recommended By Software Pro Reviews